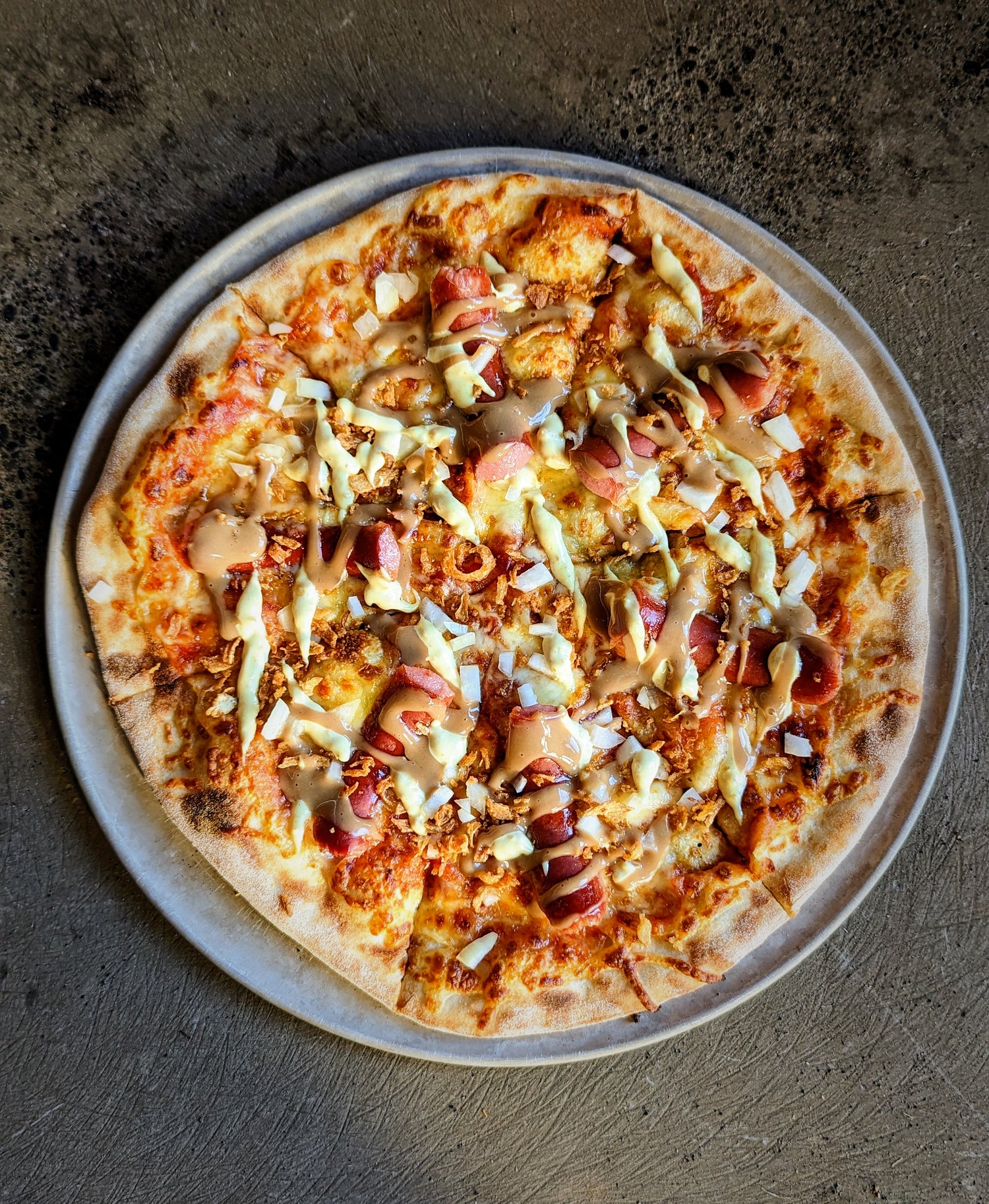 Eina pølse pizzu takk!
P-P-P- PULSUPIZZA!
Pizza mánaðarins er að þessu sinni án efa sú altrylltasta sem oltið hefur upp úr Elvari, hugsjónamanni Ölverk, þeink jú verí næs!!
➤ Ölverk pizzubotn, Pylsa, tómatsósa, steikur laukur, hrár laukur, sinnep, remúlaði og mozzarella ostur.
Já svo sannarlega algjört tímamótaverki sem enginn alvöru smakkari ætti að láta framhjá sér fara.
3290,-
× • × • ×
Craving Ölverk Pizza & the Icelandic hot dog ?
Torn beteen pizza and hot dag? No worries, we got you!
This months special pizza here at Ölverk is the most outrageous pizza he Elvar, our esoteric, has ever introduced to the world and most likely an Icelandic food experience that you will remember for a long time as we have combined the oh-so-loved Icelandic hot dog with our oh-so-loved Ölverk pizza!
➤ Ölverk pizza dough, an Icelandic hot dog , tomato sauce, fried onions, raw onions, Icelandic mustard, remoulade sauce and mozzarella cheese.
Order yourself one ´Eina-med-ollu-Ölverk-pulsu-pylsu-pizzu-takk-fyrir!´ and get ready to be amazed.
3290,-
Our Opening Hours
Monday 11:30-22:00
Tuesday 11:30-22:00
Wednesday 11:30-22:00
Thursday 11:30-22:00
Friday 11:30-23:00
Saturday 11:30-23:00
Sunday 11:30-22:00
Note that the kitchen always closes at 21:00!
For all questions and booking for groups larger then 6 people contact us via email olverk@olverk.is